My fascination with the human body developed early. As a little girl I read anatomy books over my breakfast cereal. I always loved science and still immerse myself in anatomy, neuroscience and physiology. I first stumbled into a massage practice when traveling in northern Thailand in my early twenties. I wanted to learn something distinctly Thai and loved getting massage! After three-month course in Traditional Thai Massage, I was hooked on giving massage! Back at home in California I delved into bodywork training; becoming a certified massage therapist with a specialization in sports injuries. Seventeen years later, I continue to practice massage with an academic approach to understanding the body and a long-living desire to reduce suffering around me. I love working with athletes – and that includes you! In my book, an athlete is someone who has a movement-positive relationship with their body. Hey, let's get you moving – pain-free!
Some principles I work by:
Everyone deserves individual care and I work by that standard.
A painful treatment is not always the way to muscular relief.
You have got to make friends with a body before it will let you in.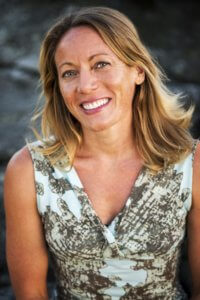 I am confident working on many injuries, including:
Sciatica
Tennis Elbow
tight/pulled hamstrings
Rotator cuff injuries
Piriformis Syndrome
TMJ
chronic headaches
lower back spasms
iliopsoas pain
Neck Stiffness/spasms
Being an athlete myself, I understand injury and soreness from personal experience. My active lifestyle includes: swimming, outrigger canoe paddling, running (retired!), cycling, weight lifting, surfing, practicing yoga and hiking regularly. I cannot imagine life without movement and my aim is to give my clients the joy of an energetic and pain-free body.
My Bodywork Education
Swedish, Sports Therapy and Deep Tissue: McKinnon Institute, Oakland, CA
Prenatal Certification: Mckinnon Institute, Oakland, CA
Shiatsu, Acupressure and Sports Therapy: Acupressure Institute, Berkeley, CA
Chiang Mia Traditional Thai Massage: Northern Thailand
Reiki Level 1 & 2: Berkeley, CA
Anatomy/Physiology: Cabrillo College, Aptos, CA
Flying Yoga Teacher Training 200 hour RYT (Registered Yoga Teacher) Flying Yoga, Oakland, CA