My fascination with the human body developed early; as a little girl I read my mother's anatomy books over breakfast cereal.  A couple years after high school, I was inspired to take an intensive course in Traditional Thai Massage, while traveling in Northern Thailand. When I returned to the States, I delved further into bodywork training; becoming a certified massage therapist with a special interest in injuries. Sixteen years later, I continue to practice massage with deep enjoyment. The rewards of my work is witnessing the immediate positive results that manual therapy can provide.
My experience includes working with tight techies, triathletes, post-surgery clients, and over-whelmed parents. Everyone deserves individual care and I work by that standard.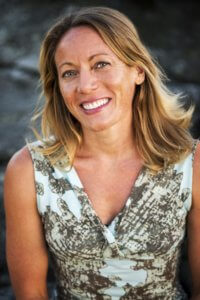 I can improve many conditions including:
Sciatica
Tennis Elbow
tight/pulled hamstrings
Rotator cuff injuries
Piriformis Syndrome
TMJ
chronic headaches
lower back spasms
the common pains that accompany pregnancy
Being an athlete myself, I understand injury and soreness from personal experience. My active lifestyle includes: swimming, running, cycling, weight lifting, surfing, practicing yoga and hiking regularly. I cannot imagine life without movement and my aim is to give my clients the joy of an energetic and pain-free body.
My Bodywork Education
Swedish, Sports Therapy and Deep Tissue: McKinnon Institute, Oakland, CA
Prenatal Certification: Mckinnon Institute, Oakland, CA
Shiatsu, Acupressure and Sports Therapy: Acupressure Institute, Berkeley, CA
Chiang Mia Traditional Thai Massage: Northern Thailand
Reiki Level 1 & 2: Berkeley, CA
Anatomy/Physiology: Cabrillo College, Aptos, CA
Flying Yoga Teacher Training 200 hour RYT (Registered Yoga Teacher) Flying Yoga, Oakland, CA